Custom Backyard Kitchen and BBQ Island Design
The finest in outdoor dining for the entertainer in you.
---
The vegetables are chopped. The meat has been marinating since last night. You've been looking forward to this meal since you woke up this morning. It was the first thing you thought of. You've been watching the clock the entire day.
There really is nothing quite like the excitement of setting up for a back yard barbecue. It doesn't matter how many times you've done it; the sheer joy of cooking outdoors keeps us coming back to it again and again.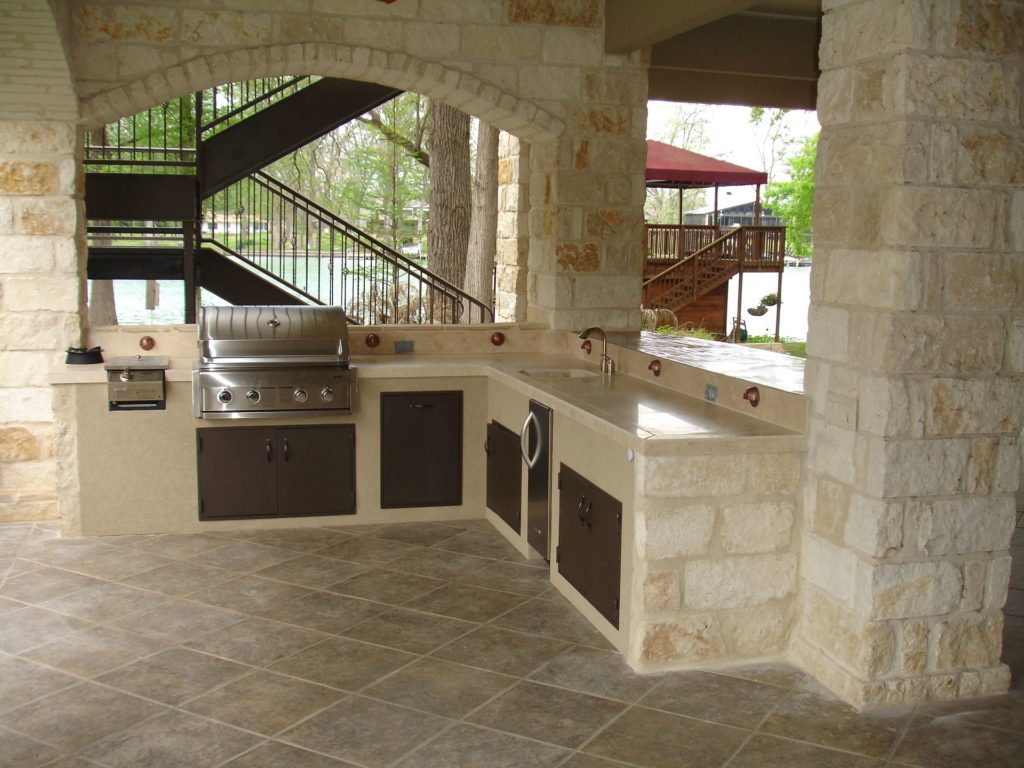 Outdoor Kitchen Design – Austin
But let's face it – a custom landscaped back yard deserves a little more than rolling out the old, dependable grill. Don't get us wrong – it has served you well. But, you've added your own personal touch to every aspect of this space. It's time to make it the ultimate cooking space as well.
It doesn't have to be extravagant. Our designers can create a beautifully integrated barbecue island that combines a high quality stainless steel grill with the preparation spaces necessary to prevent those irritating back-and-forth trips into and out of the kitchen. Add in a small refrigerator and keep raw foods at safe temperatures while beverages get served perfectly chilled every time.
This is the world of custom back yard kitchen design. And no one does it quite like Austin Pool Specialists.
But what if the basics aren't quite enough? Have you ever considered custom masonry to add a brick oven to your outdoor kitchen? Why not?
Your Austin-area outdoor kitchen can be customized to meet just about any specification. Need more storage space? How about some outdoor cabinetry that is both weatherproof and secure enough to keep neighborhood pests out while your cooking utensils and dry goods remain safely inside. Custom countertops including travertine and granite add a personal touch to the space while nothing but the highest quality cooking surfaces and tools bring function and touches of modern style. Integrated trash and recycling containers easily keep refuse out of sight.
Food has always had a way of bringing people together. After all, there's a reason that the kitchen is the most popular room at a party. Take the warmth and welcoming of a well-equipped kitchen to your back yard and watch as family and guests relax and connect with one another in a space custom built for the enjoyment of everyone lucky enough to be welcomed within it. Explore what's possible in outdoor kitchen and barbecue design with the experts at Austin Pool Specialists.